Premium Genealogy Databases
HPL subscribes to these databases for your use. 
Ancestry Library Edition A genealogy research tool providing instant access to a wide range of resources for genealogical and historical research. In-library use only.
Heritage Quest  A genealogy resource providing access to over 20,000 books, the entire U.S. Federal Census, PERSI (the Periodical Source Index), Freedman's Bank Records, Revolutionary War Pension Records, and other collections as they are added.
---
History and Records of Hampstead, New Hampshire
There are many sources of local history online. We've collected some here for you.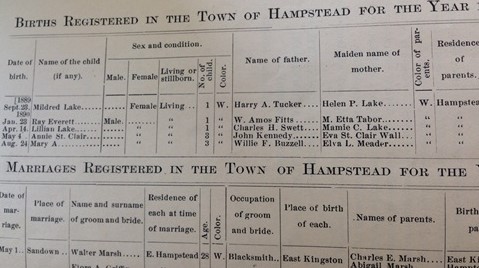 Hampstead Vital Records Project
This database of vital records from the town of Hampstead, NH was compiled from the original town reports. It has been created to assist patrons and genealogists tracing their history back to Hampstead. We wish to heartily thank our volunteer Michelle Elder for her attention to detail over long hours entering this data.
Currently, records included range from 1888 - 1940. We hope to add more in the future. Records not included in this database can still be accessed at the Hampstead Public Library.
Browse the Vital Records Database (this database is currently unavailable, but we hope to have it up again soon. Please contact us for vital records from our town reports, or see Town Reports link below)
 
---
Memorial History of Hampstead N.H. (Copyright 1899) contains interesting Hampstead history and photos. We have several physical copies here at HPL, but you can also access it all online.
Memorial History of Hampstead by Harriet E. Noyes, Volume 1: Town
Memorial History of Hampstead by Harriet E. Noyes, Volume 2: Church
Hampstead Town Reports: Print copies are available in the NH Reference section: 1870-2021
Hampstead Town Reports online copies (1925-2020, plus a few from the 1880s) can be found by searching the library's catalog or though the UNH Digital Collection – Cities &Towns.
Hampstead Town Reports (2014-2021) can also be found online from the Hampstead Board of Selectman. 
Family Search – Search the catalog of genealogical materials (including books, online materials, microfilm, microfiche, and publications) made available by FamilySearch. Some items may be online, and some may be in print.
---
Local Cemeteries - Find a Grave in the Hampstead area
 
Hampstead Center Cemetery also known as Old Cemetery, located on Rt.121/Main Street across from Town Hall
Hadley Cemetery on Central Street 
Lakeview  located on Kent Farm Rd, off of Rt. 121/Main Street
Saint Christophers Memorial Garden  187 East Rd.
Pine Knoll Cemetery  near intersection of Rt 111 and Danville Rd. 
West Hampstead Cemetery also known as Pine Grove. Located off of Rt 121/Main Street to Chase Rd to Cemetery Rd
New Hampshire Old Graveyard Association
---
Useful Online Resources for Genealogy
These resources offer nation-wide and global resources for finding more family history.
Brigham Young University's Immigrant Ancestors Project
Cyndi's List of Genealogy Sites on the Internet
Immigrant Ships Transcribers Guild 
National Archives Records Administration
Princeton Public Library - By State or Region A-Z
---
Need help getting started?
See our Genealogy Research - Getting Started guide on YouTube, or the pdf version attached below