Request for Proposals to Repair and Upgrade the Building's Portico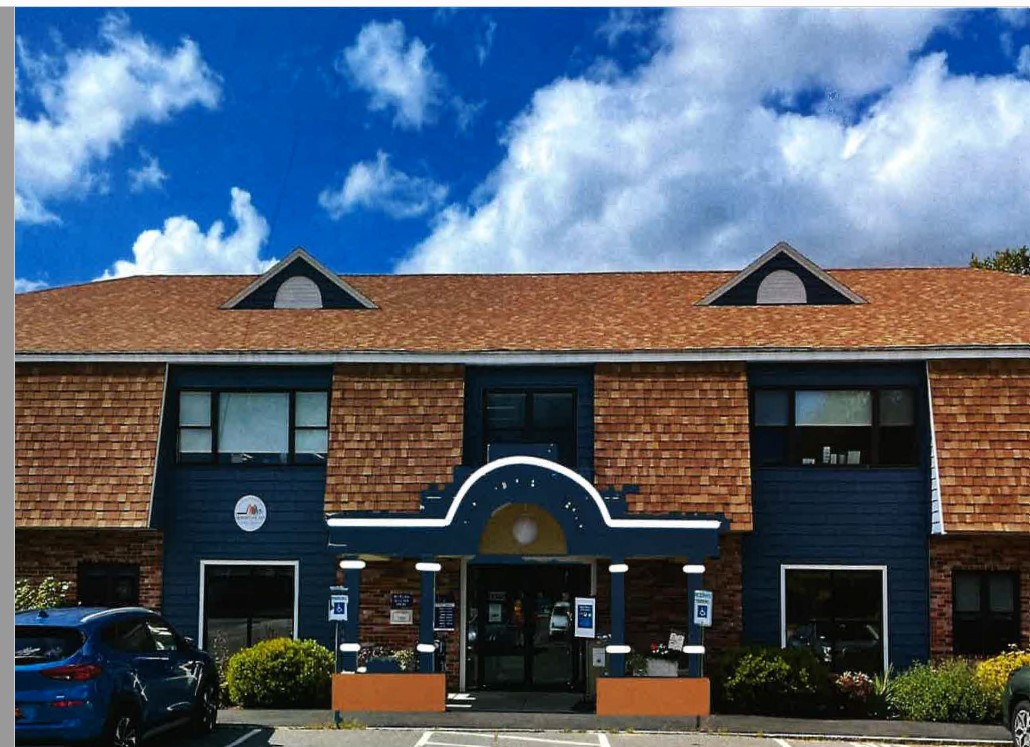 The Hampstead Public Library, Town of Hampstead, NH is seeking proposals for repair and upgrading of the building portico. See attachments at bottom of page for printable documents.
Proposals will be accepted in the Library at 9 Mary E. Clark, Hampstead, NH  03841 until 5:00 p.m. on Monday, June 15, 2022, and should be clearly marked "Proposal for Repair and Upgrades to the Library Building Portico". 
1.Replace or restructure roofline with circular roof line with circular opening so globe light is visible.
2.Cover base concrete areas with brick or brick tile to match the brick on the building.
3.Place granite tops on existing concrete sides.
4.Cover or encapsulate remaining stucco with PVC boards and paint to match siding with white accents. (See picture for mockup.)
5.Install new lettering for library name. (To be purchased by Library)
6.Clean area and remove all debris from the premises.
7.All work must be completed before winter.
It will be each bidder's responsibility to visit the site before submitting a proposal to the Hampstead Public Library.
The Board of Trustees reserves the right to accept or waive any informality or reject any or all proposals as they see fit.
The firm submitting a proposal agrees to provide general liability insurance covering the Town of Hampstead in the amount of $1,000,000 and a certificate to that effect prior to commencing any work on the project, and all applicable employee insurance coverage including Workman's Compensation as required by the State of New Hampshire.
Any questions regarding this RFP should be directed to Rosemary Krol, Library Director, Hampstead Public Library, 603-329-6411, director@hampsteadlibrary.org.
Meetings
The Board of Trustees has a regular meeting schedule of the third Tuesday of each month at  1:30 PM.
Meeting notices are posted at the Public Library on the bulletin board, at the Town Hall on their notice board, and on the Library's online calendar. Recordings of meetings can be found on the Town's Cable channel 17 or on 
Hampstead Cable Channel On-Demand.
If anyone would like to attend a meeting but the time is a deterrent, please reach out to the Director, Rosemary Krol
 
Natalie Gallo, Chair
nagallo @ comcast.net
Charlene Flaherty
flahertyca @ comcast.net
Ronnie Shelley
vershelley @ gmail.com
Al Cipriano, Treasurer
mrcid1 @ aol.com
Kristina Durocher
kristina.durocher @ gmail.com
Alternate Members
Theresa McTammany
Bob O'Brien
Past meeting minutes and director reports:
Meeting Minutes for Board of Trustees
History of the Hampstead Public Library Trustees
| | |
| --- | --- |
| TRUSTEES |   |
| Henry Ordway, George R. Bennette, J.C. Eastman, William A. Emerson, Samuel Morse 1888 | 1888 |
| George R. Bennette | 1890-1897/1902-1904 |
| William A. Emerson | 1915-1920 |
| Andrew M. Moulton |  1889 |
| John S. Carson | 1889-1932 |
| Francis H. Sawyer | 1889 |
| Moses C. Morse    | 1890 |
| Isaac Randall | 1891 |
| Daniel N. Hoyt | 1892-1895 /1911 |
| Daniel Emerson | 1896-1911 |
| Rufus P. Gardiner | 1898-1901 |
| George A. Hoyt | 1905-1910 |
| Albion D. Emerson | 1912-1914 /1933-1939 |
| Lucius L.  Darbee | 1914-1931 |
| Joseph M. Toit | 1932-1937 |
| Harriette W. Ingraham | 1939-1942 |
| Arthur A. Hathaway | 1942 |
| S. Evelyn Taylor | 1942-1944 / 1946-1947 |
| Grace Shaw Johnson | 1942 |
| Madeline Collette | 1944-1952 |
| Bertha Whiteneck | 1944-1945 |
| Helen Swift | 1945-L946 |
| Agnes Covell | 1947-1953 |
| Pearl Darling | 1948-1952 |
| Viola Johnston | 1953-1954 |
| Marion Wright | 1954-1958 |
| Ann D. Bolton | 953-1955 |
| Pearl Cornwell | 1956-1967 |
| Lincoln K. Drake | 1956 |
| Rev. Theodore B. Hadley | 1957-1962 |
| Esther Orcutt | 1959-1966 |
| Marjorie Kirkness | 1963-1967 |
| Elaine Brough | 1967-1972 |
| Calvin Scovel, Jr. | 1968-1973 |
| Loretta Cummings | 1972-1973 |
| Mildred F. Emerson | 1973-1975 |
| Florence Malsbenden | 1975-1977 |
| Mary E. Clark | 1974-1979 |
| Beth Duston | 1976-1981 |
| Louis Griffith | 1978-1980 |
| David Lanning | 1980-1984 |
| Warren Cooke | 1981-1982/1988 |
| Catherine Robbins | 1982-1985 |
| Wendell McIntire | 1983 |
| Adele Trested | 1984 |
| Pamela Hartung | 1985-2003 |
| Warren Trested | 1985-1987 |
| Lincoln Palmer | 1987 |
| Joseph Hannigan, Jr | 1988-1992 |
| Jay Burns | 1989-2005 |
| Margot Clemente | 1993-2008 |
| Pamela Hartung | 1998-2003 |
| Robert Kuhl | 2005-2013 |
| Emily Reschburger | 2003-2018 |
| Diane Kelly | 2008-2011 |
| Judi Crowley | 2010-2011 |
| Paul Schofield | 2010-2011 |
| Aileen Wall | 2012-2014 |
| John Skidmore | 2012-2013 |
| Gwen Glick | 2013-2016 |
| Alfred Cipriano | 2015-2018, 2021-Present |
| Robert O'Brien | 2018 |
| Natalie Gallo | 2015-Present |
| Veronica Shelley | 2019-Present |
| Charlene Flaherty | 2018-Present |
| Kristina Durocher | 2021-Present |